Me Time
An excerpt from Life's Missing Instruction Manual by Joe Vitale.
Few know this (unless they've read this manual, too).Most people think they need to fight and struggle. Not so. You can let life unfold. The secret is to focus on what you want, do what is before you to make it happen, and trust the process.

Yes, life can be hard.
But it can also be easy.

Most of the difference is in how you look at what is happening.
If you regard running a marathon as hard, you won't find it very easy. But if you enjoy running and consider a marathon a personal challenge you welcome, then you will regard running it as easy. Yes, you may sweat and struggle and pant along the way, but you'll still enjoy it.

As with everything else, the choice is yours.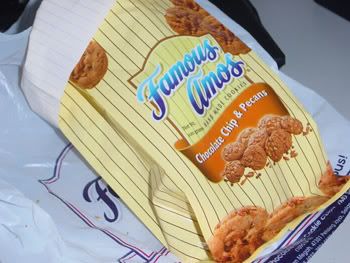 How comforting is 'comfort food'?
I wish I have more control over myself when it comes to handling the mad chocolate cravings I

always

have during PMS. That's one thing I find SO hard to resist (besides pasta). Don't you, girls?
I had one chocolate cupcake late last night, one more this morning for breakfast, one packet of Famous Amos cookies for lunch (yea, I don't feel like eating anything else! I skipped my HL diet alrite – I don't have Dutch Choc in my stock. Now is that a good excuse or what..) and just now, I had 4 slices of bread with thick chocolate spread! Well, it's a wholemeal bread so it's still considered healthy, no?
Maybe not.
Anyway, I had my facial appointment last Saturday with my bro (how metrosexual can he get now? ;p) and when my beautician first saw me when I entered the room (the last time I went for my facials was like 2 months ago), she exclaimed,
"Heeee…..along dah kurus banyaaakkkk!!!"
Now THAT is really comforting.