So we went to France last week. The flight went smoothly, Alhamdulillah. I didn't bring any liquid items on flight sbb takut nanti kena rampas ke apa due to the Europe/US liquid bombing thingy. But it turned out mereka tak check langsung. After about 7 hours of exhausting but fun flight, we transited in Dubai for about 4 hours (I watched Devil Wears Prada on flight twice btw. Which makes altogether 6 times!). Then 8 hours after that, we arrived safely in France.
We stayed at Marriott's Village d'Ile-de-France, which is not situated in Paris. I thought duduk betul-betul kat kota Paris. Anyway, the Marriot's Village is a really nice place to stay. The area surrounding it is so calm and peaceful, and very scenic – there's a duck pond (or izzit a lake) at the back or our townhouse. C'est magnifique! Plus, transportation is easy bcoz there's a free shuttle bus every few hours which took us to Marne La Valle-Chessy metro station that's only about 5km away. That's where Disneyland is located.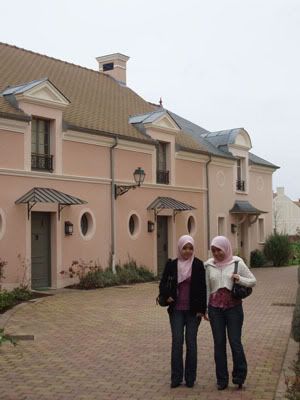 The gigantic chess!
So bcoz Disneyland is only like 10 minutes away from our place, that was the first place we went to. It took us 2 whole days nak habis jelajah both Disneyland Parc and Studio. Itu pon tak semua rides dapat naik. Btw, this is my first time going to Disneyland (2nd time for my adiks). I feel like a little kid once again!
Ok, I've done enough talking, so let's move on with the pictures.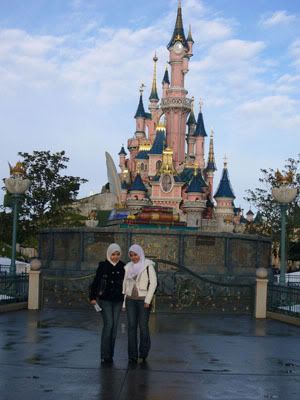 Lemme in!!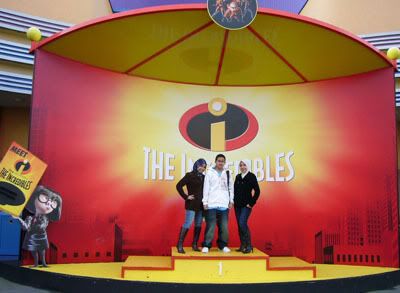 The Incredibles version manusia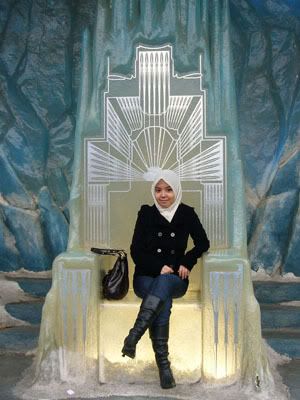 Hail to the new Queen of Narnia!

This is a mock-up of an umbrella shop. It's cute isn't it?
We went to some famous places/monuments in Paris the next few days, including Eiffel Tower, Arc de Triomphe, Notre Dame, Opera Garnier, etc etc. I can't remember all the names of the buildings bcoz they're all tongue twisting ! Anyway, I think we did lots of sightseeing more than shopping
(that's what happen when dad's around!).

Eiffel I'm in love!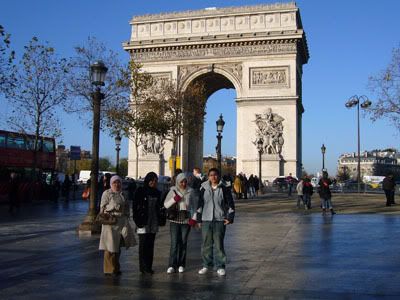 Arc de Trompet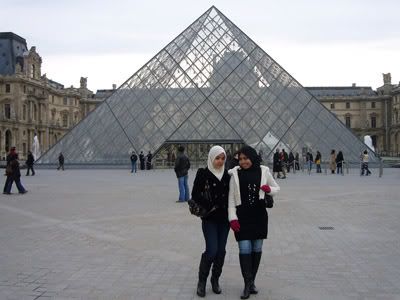 Musee du Louvre

Err…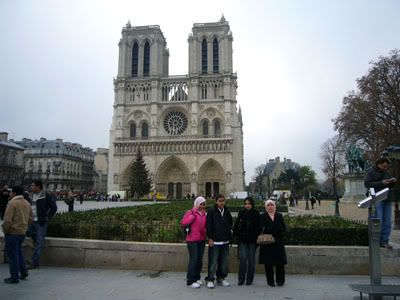 Notre Damnnn

sungai ape tah…

Now I like this pic.

Wani wearing Fendi in front of LV. Hey, it rhymes!
Okay, let's get to the juicy shopping bits!
Of all the shopping malls that I listed down before going to France, we only managed to find 3 of 'em – Galeries Lafayette (there're 2 of 'em. And they're huge!), Bazar de l'Hotel de Ville and Printemps. Things are so expensive especially at Galeries Lafayette, we didn't buy anything. Hello, Lancome mascara when converted to RM is about 130! You can get the same one in Malaysia for less than RM90.
Just a day before going back to Malaysia, we found a mall at Val D'Europe which is waayyyy affordable. I managed to get a few tops, and most of them are brands that I have never heard of (except for Naf Naf).
And, that's not it. There's a designer outlet as well – La Valle Outlet Shopping Village. Yay! Val D'Europe is only one station away from Marne La Valle so we went there twice that day sbb dah tak cukup masa nak shopping (balik rumah sekejap utk solat).
Anyway, among the outlets yg ada kat situ are Ferragamo, Celine, Bally, Burberry, MaxMara, Lancel, Polo Ralph Lauren, Tommy Hilfiger, Kenzo, Armani, Calvin Klein, Agnes B, Christian Lacroix, Givenchy, Timberland and many many moree.. More than 75 prestigious brands (I wish LV has an outlet)! All the brands are 33% cheaper than normal boutiques' prices. And on top of that, we can claim 12% VAT (tax) for purchases over 170 euros. We'd be crazy not to shop!!
Mama bought herself a black leather Bally bag, a blue-ish purple Lancel shoulder bag and Burberry Brit perfume set. Dad bought a few Polo shirts for himself; my bro bought a pair of Timberland boots and a Polo shirt, annnndddddd both my sister and I got these for ourselves:
Celine bags!
Will continue later…