My mom has this award function thingy next week so as her daughters-cum-Personal Shoppers, we helped her to hunt for a black pair of shoes and a bag to match her outfit last Saturday. The rule is that all three of us must agree on the selected shoes and bag; and if either one or two of us don't agree, we have to pass and look for the next one.
We scoured nearly all the high-end boutiques in KLCC looking for "The One" and I, on the other hand, managed to try on so many pairs of designer shoes and bags (and 8 Escada sunnies as well). It was heaps of fun – much more fun than going shopping for myself!
So anyway, it's a morning function and mom wants something that's not too flashy but not too serious either. She wants something that's wearable not only for events and functions, so when I saw this pair of black patent pumps at Anya Hindmarch, I knew it's The One. It's really chic and cute (I love the back bow details), and mom said it's of the perfect height. Mission accomplished!
The bag-hunt however, wasn't as easy as the shoe-hunt because… do you know that there are more gorgeous white bags than black? Seriously. Every time we saw white bags, we'd go like "…does it come in black as well?". And if it does, it ain't as gorgeous as the white ones. I wonder why.
But in the end, we managed to find the perfect black bag for mom. It's a Louis Vuitton bag from the Suhali line. Mind you, we checked out more than 10 bags at LV alone, before finding the perfect one. And at last when the Sales Assistant took out the Suhali L'Ingénieux bag (how do u pronounce it again?), all three of us exclaimed, "Haa!!!" serentak. It's The One. Finaaaallyy! *phew* I can see the relieved face of the SA too!
It's a gorgeous, gorgeous bag. 
Mom, can I borrow? Pretty pleaseee…. 

Here are some of the bags that I've fallen in love with during the bag-hunting session with my mom and sis: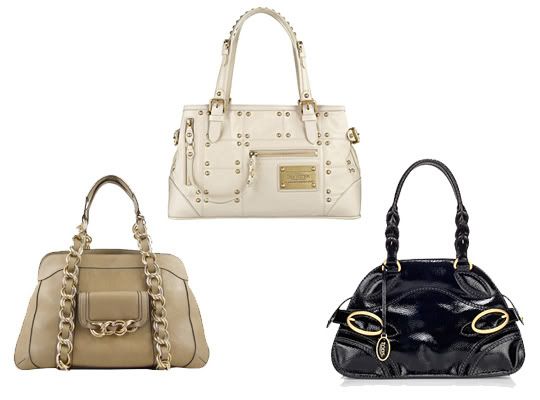 Clockwise from top: Louis Vuitton Lambskin Rivets bag, Tod's Treccia bag, Anya Hindmarch Marlie bag